This'll be a short blog, by virtue of the fact that it was also a short project (and I simply didn't take many progress pictures), but it combines my fantasy-style design with some late Victorian styles and Georgian sewing. I know, you're probably wondering where all of these menswear projects came from – my only answer is that I planned them about two years ago, and since I prefer dresses, I kept procrastinating.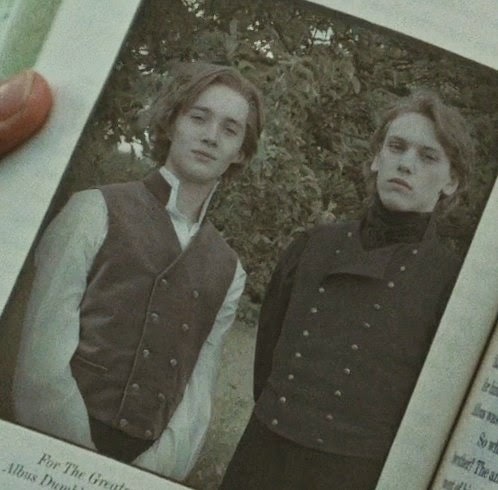 A friend and I have been planning to do original versions of young Dumbledore and Grindelwald (Harry Potter and the Deathly Hallows) for a while; we wanted to take the 'canon' photo of them from the book (left) and spice it up a bit.
 Now that the Fantastic Beasts movies have come out – especially the second one – we're all fired up for a different reason: the costuming is fantastic, yes, but it's not fantastic, i.e. wizardly. At all. It's plain old no-maj fashion! (At right.)
So what I did for Dumbledore here was to spice him up a lot, especially keeping in mind his initial description in Sorcerer's Stone, which has always stuck with me.
In the books, Dumbledore is a consistently flashy dresser. His wardrobe consists of things like "long robes, a purple cloak that swept the ground, and high-heeled, buckled boots," and at one point when he visits the muggle world, he wears a plum-colored velvet suit.
'Fantastic Beasts' and the problem with wizarding costume design

Even before I solidified the design in my mind, I knew I wanted to give him at least one stand-out velvet garment. I had a burnout velvet/chiffon in my stash that I knew would work perfectly, and I created a cloak from it with very little fabric wastage.
(Perhaps it's time to mention here that I'm just going to be reusing Prince Adam's shirt for this. Hah.)
Fast forward a year or so, and I finally got around to finishing it up and making the rest of the costume. I had a bunch of time on my hands and no wish to cut more fabric just yet, so I embellished the edges of the cloak with seed beads while I hemmed it. (It was finicky fabric, so I had to hem it by hand anyway – why not be Extra while I do so?) I also french seamed a lot of it, again due to finickiness.
Once that was done, I had no excuse to avoid the rest of it any longer. I knew I was going to make pants for this, but I loathe making pants for myself. So…waistcoat. How could I take the original design and make it more interesting? My first inclination was to shift it more in the direction of an over-tunic, so I took McCalls 7399 and made a mockup. (Finally, you say! Yes. I too am proud.) This is the same pattern that I altered for my binder, so I was already aware of the likely changes that I would need to make.
The above right is actually the second version I tested (you can see that the pattern on the floor is much longer), but it was still reading too much like a dress. I wanted a long waistcoat in order to keep the crotch area of my trousers obscured, but at this point I felt that it would be a bit more masculine to shorten it, and the tradeoffs would be worthwhile. After more testing, I ended up with this:
I cut a lining out of an antique gold silk shantung I had in my stash, and bought a beautiful purple vintage beaded sari off of eBay for the fashion fabric. I cut the fronts out of the main design (some really cool ancient-looking botehs, or paisleys), the back out of the plainer ends, and then used the beaded edging for the lapels, collar, and wings.
I slipped some mid-weight interfacing in the latter bits, and used my slip-stitching to mimic the effect of pad-stitching (i.e. give the pieces some curve). The purple fabric was both lightweight and beaded, meaning that I had, yet again, finicky fabric to deal with. I ended up treating each pattern piece as a separate garment, fully lining each before final construction – a better method for clean finishing than flatlining when you only want two layers. I pulled this concept from 18th century sewing and the English stitch – thanks, American Duchess!
Doing it this way also meant that I could control the darts more easily – I pulled both fabrics into the same four darts, and then hand-stitched them. (Sewing machine had a lot of trouble with the beads – this was easier and more consistent.)
Now there's a waistcoat worthy of a flamboyant wizard!
Now, for trousers. I figured I'd have better luck with period-style patterns than with modern, so I grabbed Laughing Moon 119 (1850-1910 civilian trousers) and whipped up a pair according to my bound measurements. Because I wear a binder with this, my waist is actually larger than usual, and so I fit the Slim measurements very nicely. (Without that undergarment, my waist-to-hip difference would be larger, and I would have had to alter them more heavily. As it was, I took in the waist about an inch, and the hems a full 4.5″.) The high waist and tubular pant leg are great! I also had a lot of fun sitting down early on and figuring out the pockets.
I bought a pair of suspenders off of Amazon for this, but they're a bit bulky and honestly the trousers don't even need them, so I won't be wearing them. But other than that, here's the full outfit!
I'll post nice photos when I get around to them – for now, thanks for reading!