I needed a break from strict historical costuming after the 1885 ensemble, so: time for elves. (Ironically, I stopped in the middle of this project to make a pair of stays, so I don't know what that says about my breaks…) In total, this one took me about 37 hours of work, spread out from Feb 23rd to March 31st.
My friend Vanya of Rattle and Burn is planning a costume for Finwë, inspired by Empress of China. The image she sent me…
Goals, honestly.
Anyway, as I am most decidedly not Fan Bingbing, and I also am not nearly as good a costumer as Vanya is, I'm taking color inspiration from the Empress and costume inspo from one of her handmaidens. I present to you Zhang Junning:
Still gorgeous, right??
I made a first sketch for Miriel, inspired by that and a few interesting fantasy costumes (the design ended up changing significantly, but I'll explain how it happened as I go). I added my usual flair of long oversleeves and a boned bodice, and had aspirations for appliquéd or embroidered panels.
I was interested in doing this costume in blues, greens, and silvers, but I talked with Vanya and discovered that the color scheme of her outfit will be reds and golds. I hadn't yet bought fabric anyway, so I switched over to that.
For me, the most important parts of this costume were a high waist and LOTS of skirt fabric. So I started off with a petticoat – five yards of a nice drapey cream fabric, with a shiny damask pattern. A big break from historical stuff – 90% of the fabric in this costume is polyester. (But beautiful nonetheless!)
I ended up cutting it into pieces and resewing it so that the pattern proceeded vertically; in the end, I had six yards of length on my hands. I pleated it all down to a waistband a bit bigger than my ribcage and then made some tubing out of the same fabric for straps.
Planning this underskirt, I reached for reference from Regency-era petticoats. Petticoats needed straps in order to stay as high as they needed to be:
I knew that my bodice was going to be halter-style, and I wanted my straps to be mostly hidden, so I sewed the straps that way and then added another connecting the neck and center back.
On me:
Next: the skirts. I wanted to be fancy – draped, maybe bustled? Interesting, definitely. But I also wanted some hanging panel things. How to put them together??
I took my next fabric – another five yards of a fancy-looking gold thing, probably polyester from my burn test – and went to work. (I really didn't want to cut into it, so I challenged myself to only drape and pleat.)
The first attempt:
I really liked it at first, but wasn't satisfied. More attempts, this time including a beautiful brown velvet burnout fabric:
Same deal – I liked it, but I didn't like it as much as I wanted to. A lot of these designs also depended on the fabric continuing to lie in those deep points at back as I walked, and my walking tests weren't promising. (I experimented with weighting various parts as well.)
I eventually removed the brown fabric and focused back in on making the gold alone look good.
I was constantly trying to make it more complicated and fancy, but in the end, I let the pleating be complicated and the drapey bits stayed pretty simple. The final arrangement emphasized my booty and still looked a bit fancy.
Once that was finally over with (I spent TWENTY HOURS of my time draping and rearranging. Unbelievable) I added the last skirt layer. I'd debated between that brown velvet and a red faux dupioni, but in the end I decided to save the velvet for another day and go with red.
I stopped by Jo-Ann's at some point in this process and ended up finding the new brocades from the Cosplay Fabrics collection; the second I saw the red and gold butterfly version, I knew I had to have it for this costume. It would tie everything together and bring my color scheme back into line with the reds and golds of Vanya's.
I only bought two yards of the red because it was so much more expensive than my other fabrics, and I'd already spent enough on this! I pleated it up and let the rest trail back – I'm not 100% happy with the rectangularity of the train, but I have time to fix it in the future.
Whoops, sorry, getting ahead of myself with that photo!
By this point, I knew that what I was doing in the real world had drastically diverged from my initial design, and that it was time to doodle out where I was going with this so I could actually stay on track.
In the end I went back to the roots of that Tang Dynasty inspiration. (Design for hair, crown, and veil did not change.)
Bodice
I was originally intending to use my custom pattern for a bust-boosting pair of bodies (17thc corset), but I guess I left the pattern at home. So – the initial goal:
So instead I started with Style pattern 2678 – I needed something that expected to be boned. In retrospect, it's got a very low princess seam curve, which made my bosom look rather matronly. I embraced it in the end, but it's something to keep in mind.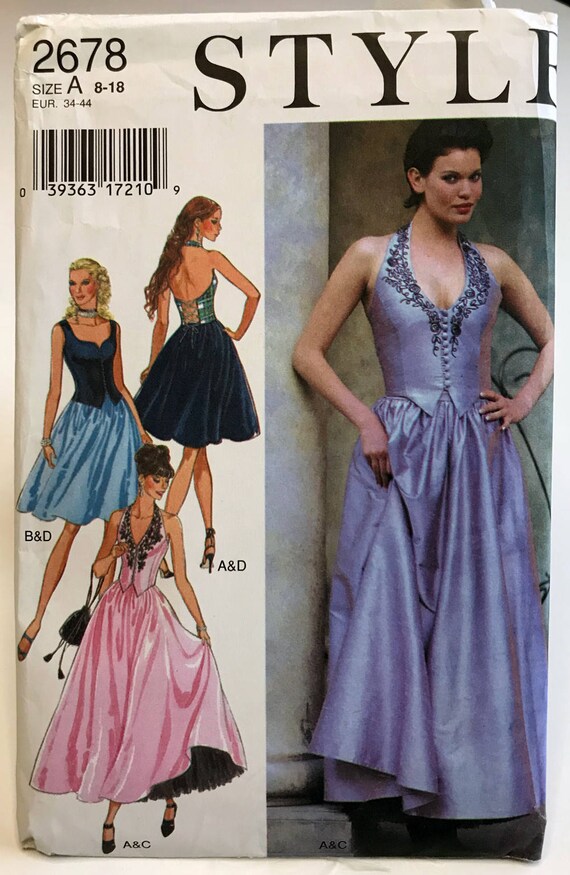 I flatlined the lining and boned it before I picked the final fashion fabric, mostly because I was really torn between red, cream, and gold! It's lined in quilting cotton and flatlined in cotton canvas; I was determined to have it feel good and be as breathable as possible since the rest of this was all polyester…
Aaand the try-on. I had boned the front seam and the princess seam, and it was not only a bit loose around the lower bust, but it also looked weird. (Leftmost picture.) I harrumphed about it for a bit and then re-pinned so that the closure overlapped; a quick and dirty fix that actually worked great, and looked fine.
What the back looked like, below left – and the final fabric. The gold fabric I used for this was really thin, slippery, and fragile (I melted a piece of it with the iron on a LOW temp and a quick pass, which also then made me scared of trying to get creases out). I'd have liked to bind the edges in the same gold, but the fragility made me pick cream – that original fabric that I made the petticoat/underskirt out of.
So that's the bodice! Bonus silly picture…
The bodice (and skirts, for that matter) sort of float outside my ribcage instead of touching it. (Am I explaining that well? My underbust is about 33″, and the skirt waistbands and the edge of the bodice are around 35-36″. Is that clearer? Everything just hangs.) So when viewed from the side, the whole thing gives the impression that I don't have much of a chest – and then from the front, all of a sudden CLEAVAGE. I didn't really plan it that way, but it works out. And it's funny.
Rigging notes: the red skirt snaps to the waistband of the cream underskirt; the gold skirt hooks and snaps to the inner bottom edge of the bodice. It works great!
Jacket
I started with Simplicity 5046 for the toile and then completely altered it.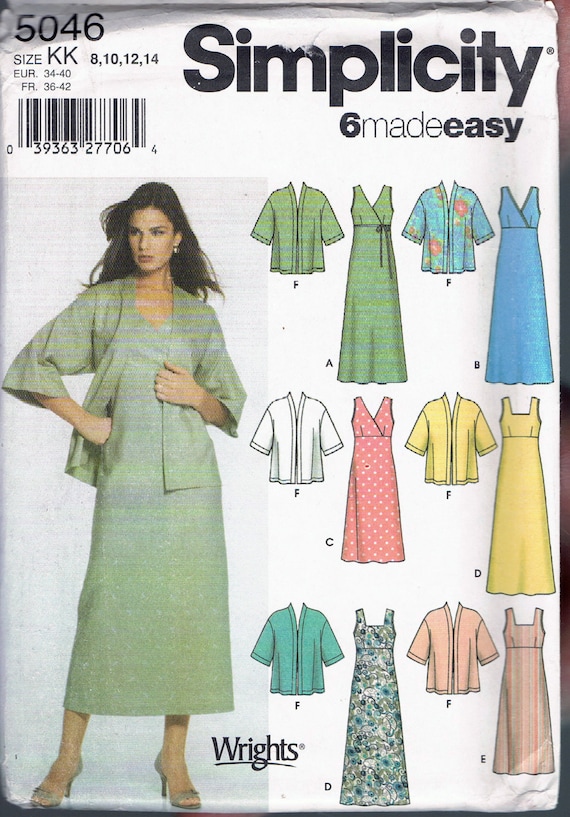 Because my design was so cropped, I couldn't have such wide sleeves at the armscye, but I also wanted them to be very wide at the ends – I ended up patterning new ones. The body of the jacket got cut down and shaped (it looks VERY uneven when lying flat, but perfectly level on the body) and darted.
I regret not making the darts go all the way to the shoulder seam, because while it looked right with this muslin mock up, it's a bit lumpy on the final product. (The silk I used has a LOT of body, and takes any chance it gets to be puffy. 😡  Whoops.)
I cut out the body of the jacket in my silk and went to work embroidering. At some point, I'll learn to draw out what I want ahead of time – I'm constantly amazed that my stitching ends up looking good…
I also worked on the sleeves separately, adding layers of the same silk in other colors. Both the sleeves and the collar got this treatment, and along with the embroidery the use of color there really tied the green jacket into the rest of the outfit.
Detail shots of the embroidery:
I'm still bothered that the fabric puckered like that, but I wasn't able to use a hoop, so that's what I get. Fortunately, it's not nearly as obvious in person.
I lined the jacket with my muslin mock up. (I'm a sucker for saving time AND for lining in cotton, what did you expect?) I had initially planned to turn under the lower edge to finish it, but that ended up raising the bottom too high. Oops!
I settled for binding it with a bias strip of the green silk. Let's face it: nobody believes I have four layers of clothes on under the green one anyway…
I also ended up inserting drapery weights into the front tips of the bodice in order to keep it down. (Remember how I said it had a lot of body? Yeah. Stiff tips.)
Final
I was working to a deadline (Anime Boston 2018), so a bit was left unfinished. The next time I pull this out, I'll need to properly hem the cream underskirt – I kept tripping on it – and think about bustling the red skirt so I'm happier with the shape. I also left the sleeve ends of the lining floating, but that doesn't really bother me so I probably won't finish that… (The insides of the silk sleeves are all sewn down, no worries.)
Oh, and I need to make the crown and veil. Whoops.
So, event day: did some weird makeup, found a bang piece that matched my hair (it's currently bleached/toned silver instead of my natural golden blond, for maximum elf).
This was really comfortable to wear! I got some great pictures from Silhuin Photography. Such grace.
The ears are new purchases from MadhouseFX – I highly recommend them!
And a better photo of the bodice, to end on:
Thanks for reading, and see you next time!