Part I – Undergarments
This was a very ambitious project. I'd recently fallen in love with the Late Bustle era, and was invited to be part of a group of the same, inspired by Game of Thrones. (Which I'm not a huge fan of, but hey, anything to make fancy gowns…)
I zeroed in on three Worth dresses, and decided to go for the character Melisandre, as she wears only red.
I armed myself with three Truly Victorian patterns and one Black Snail Patterns:
TV416 – 1875 Ball Gown Basque (heavily modified)
TV361 – 1880s Butterfly Detachable Train
TV292 – 1893 Bell Skirt (this was a bad decision – it's not made to go over a bustle!)
Victorian Underwear Sewing Pattern #1115 (this includes a trained petticoat and traveling bustle)
---
Corset
I didn't start with the corset, but it makes more sense to talk about it first, so here we go.
I used the Simplicity 2890 pattern because I had it lying around. Again – impatient seamstress.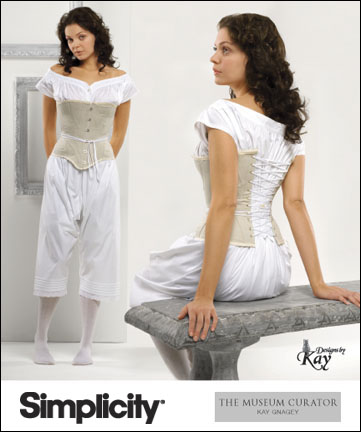 I used a fabric that defies description – it almost looks like 1740s lace style pattern? but obviously very polyester. It was very thin, so I had to flatline it onto a bottomweight twill. That took a while…
I ended up adding a bit more boning than they recommended – trust me, it was necessary.
I finished most of it in a day – all I have left is cutting the actual bones (I shoved placeholders in for this try-on) and binding.
As you can see from these photos, I ended up wearing my Edwardian corset for this instead of the 1890s one I made. That's because I actually get better waist compression in this one, and it's more comfortable to boot. I did wear the 1890s one for an earlier event with most of the dress and it worked fine, but I was happier in this one in the end.
And lastly…
Hip Pads
I wore the bodice and skirt out to an event before I made the bustle – sort of as a test-run – and identified a few things to fix. One was that I wasn't happy with the shape, so an easy fix was to make hip pads for myself. What's 'real' after all?
 
(Please ignore that non-era-accurate corset. I didn't want to take it off the dressform.)
I drafted these out of my head, having made bumrolls and hip pads in the past and knowing vaguely what shape and size I needed for this to look good. They snap shut onto each other in back.
Nice shape, eh? I have them stuffed under the sides of a bustle here (a tornure cage that I did not make myself) and then under a single petticoat, and they're nice and smooth. Girl's got hips!